Top 10 Best Hand Creams for Dry and Rough Hands to Buy Online 2020
Hands don't get enough love. Most of us moisturize right after facial cleansers, but how many of us do so after a good hand washing? And while the skin on our hands isn't as sensitive as the stuff covering our faces, it's still living tissue. It cracks, flakes, and gets itchy. Especially when winter comes, which is when it's high time for a good hand cream.

But you have different skin from the guy next to you. You live different lifestyles. If you need to be out in the drying winds, if your job demands you wash your hands constantly, then the cheap watery stuff may not work for you. So here are a few tips and tricks that will help you pick out the heavy duty stuff–hand cream targeted at dry, cracked hands.
Last updated: 10-24-2019
490 views
How to Choose Hand Cream and Lotion for Dry, Cracked Skin – Buying Guide
Bodies are complicated things. No matter how much research you do or data you gather, there's always a component to skincare that's determined by experience and trial-and-error. So this time around, we talked hand creams with Angela, a beauty blogger who suffers from what she calls perennially dry skin.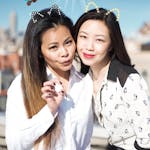 Angela (the lovely lady on the right) is one-third of Beauty and the Cat. The other two thirds are her pal Renee (whom we talked to about foundations) and the kitty beauty consultant, Roxy.

Together, they pen the lively and hilarious Beauty and the Cat, a blog that combines their experience in the beauty industry and love for anthropomorphic kitties. If you've dry skin, definitely look out for Angela's posts, as she's also contending with dehydration and "the ravages of time." You can also meet Roxy at her Instagram, below.
Here are Moisturizing Ingredients all Good Hand Creams Should Have

If you want to be sure a hand cream will moisturize, there's a few powerhouse ingredients out there you can look for. Hyaluronic acid is a compound produced by your body, where it helps repair and hydrate skin. Ceramides are another group of molecules that naturally reside in the upper layers of your skin; they contain fatty acids that hold on to moisture.
Both of the ingredients above can be derived naturally from plant sources (wheat, for example, contains hyaluronic acid), but they are often synthesized in a lab; however, they're more or less indistinguishable from their natural counterparts.
If, for any reason, you do want to stick with plant-derived ingredients, shea, jojoba, and cocoa butter are all potent moisturizers. You can also look for hand creams high in oils like argan, avocado, sweet almond, and sunflower. If you're on the fence about whether or not you want a hand cream that's all botanicals, Angela lays it out clearly below.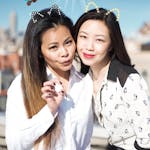 I'm okay with synthetic ingredients, especially since so many of them have been tested; there's synthetic and more effective forms of retinol and tretinoin and Vitamin C and so on.

I use a lot of face oils because I have drier skin. And one of the ingredients is a mix of natural and synthetic. It's squalane, which used to be derived from shark liver, but now there's a company called Biossance that derives it from sugarcanes to make it more vegan-friendly.
Have Specific Things You Want the Hand Cream to Do? Here are Some Common Ingredients and Their Properties
Angela pointed out to us that rarely does a "miracle ingredient" or two make or break a skincare product. It's the overall formulation–that long list of ingredients. However, we thought we'd address some common ingredients you can look out for and list out their purposes, as well as any caveats and tips that go with them.
For Crusty Hands, Look for Urea, which Moisturizes and Soaks through Dead Skin

Let's get this out of the way–yes, urea and urine have the same root (the Latin "urina"). Urea is a molecule that is excreted in urine and sweat, but it is not the same as pee. In low concentrations, urea attracts water to itself and, by extension, your skin. In higher concentrations (upwards of 10%), it works as a keratolytic–that is, it dissolves dead skin to reveal supple skin underneath.
Though it is a compound found in nature, the urea in beauty products is usually synthesized in a lab. It's quite powerful, which means that can irritate sensitive skin and should not be used near open wounds.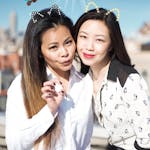 I've tried hand creams and foot creams with urea, but some were so thick—like there wasn't enough water in the hand cream—that they didn't soften and get rid of dry skin like I expected. It's a multi-faceted approach. For marketing purposes, some brands will play up a few ingredients, but it's always how they use it in the overall formula that matters the most.

So, for hand creams and body creams in particular, I always look for an oil or a butter in the first three ingredients. I noticed if the first three ingredients are things like water and glycerin and aloe vera, the formula ends up way too light to actually make a good hand cream.
For Chaffs and Cracks, Look for Aloe Vera and Other Skin-Rejuvenating Vitamins and Ingredients

If your skin is cracked, then it makes sense to look for ingredients that can generate healing. For example, vitamins help soothe and patch up skin. Vitamin C, in particular, increases collagen. In turn, this ensures your skin heals properly, preventing small lesions from splitting into bigger wounds.
Vitamin E is a powerful antioxidant and protects your skin against environmental stressors. And you don't necessarily need to look for hand creams that are specifically fortified with vitamins. Many botanicals include vitamins in them. Angela likes argan oil, which is not only packed with fatty acids, but with vitamin A and E.
This one might be obvious, but aloe vera is good for cracked skin. Not only does it hydrate, but it also disinfects open wounds. However, it's still gentle enough for sensitive skin.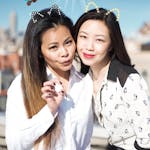 Hand cream is skincare for your hands, so why not put in all the fancy stuff, right? One ingredient that I've seen lately in hand creams, which is kind of new, is retinol. Deciem has a body oil with retinol in it. I've also seen sunscreen in hand creams. It's an underrated way to protect your hands.
For Preventive and Heavy Nighttime Care, Stock up on Petroleum Jelly

Petroleum jelly is a by-product of oil-refining; it's made from the waxy substance found in oil rigs, which is then filtered to yield this skincare miracle. There are opponents of petroleum jelly; some say it's unsustainable (since it relies on oil drilling), while some worry it's too heavy.
Brand-name Vaseline, however, is classified as a non-comedogenic, meaning it shouldn't clog pores. Petroleum jelly is one of the most effective occlusives–that is, it traps water in your skin. It's also an emollient, which means it softens flaky skin.
However, it is very greasy, which is why it's not a popular skincare item to use during the day. But you can use it on your hands before you go to sleep, and it'll lock in moisture and shield your hands from drying winds overnight.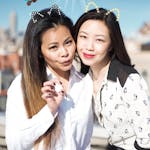 Petroleum jelly is one of the heavy ingredients I like to see at the top of the list in a hand cream. I never have any issues with it clogging, and sometimes, I even use it as a sleeping mask around my eyes, where I'm really dry. It's so effective, and it's so cheap.
If You Have Sensitive Skin, Go Light on the Scented Ingredients

You've probably heard all the bad rap about synthetic scents by now; they can irritate skin, harm your kidney, and mess with your hormones. However, even natural fragrances, including those derived from essential oils, can sensitize skin–that is, cause an allergic immune response.
If you have dermatitis or are prone to allergies, you may be more susceptible to sensitization. However, this does not mean you must avoid all essential oils with strong fragrances. This means you look at how concentrated the oils are and understand what does and does not work with your skin.
Other than that, a naturally scented hand lotion also doubles as lovely aromatherapy.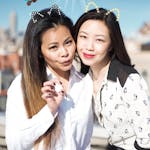 I am pretty much not allergic to anything. I just have personal preferences for my scents. For example, lavender gets used a lot in hand creams and body creams. It's supposed to be relaxing, but for me, it's really stimulating.

The two scents that I'm obsessed with are rose and peach. It's relaxing, and you feel like you're going to sleep in a spa. And I really like peach for the daytime because it perks you up and makes you think of summer exactly when it's the coldest.
Top 10 Best Hand Creams and Lotions for Dry, Cracked Skin to Buy Online
From low end to high end, from thick to even thicker, here are some creams that have proven themselves to work on a lot of people. Here's to hoping that something also works for you.
10. Aquaphor Advanced Therapy Healing Ointment
$4.76
9. Curél Ultra Healing Intensive Lotion (2-Pack)
$5.86
8. Neutrogena Norwegian Formula Hand Cream
$3.96
5. O'Keeffe's Working Hands Hand Cream
$5.82
3. Supergoop! Forever Young Hand Cream
$12.00
2. Josie Maran Whipped Argan Oil Body Butter
$35.00
Are Medicated Hand Creams Worth It?

Hand creams labeled as "medicated" are considered a drug by the FDA and must adhere to their standards. A hand cream can get labeled as a drug if it's meant to alter the structure of your body or contains certain active ingredients in specific concentrations, such as retinol or shark liver oil.
This means that they can be more effective in caring for extremely dry skin, but they are not necessarily always better. With medicated products, make sure that you always stick to the recommended dosage and intended usage, and, when in doubt, speak to a healthcare professional.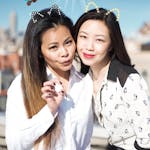 I have found non-medicated hand creams that work just as well as the ones with the special medicated ingredients. Deciem has this hand cream called Hand Chemistry. It doesn't leave your hands greasy, but it seems to work and repair my skin, and I don't even think it's medicated. It's just a really well thought-out hand cream.
Nowadays, there's very little room for uncertainty in our society. We want the absolute answer to everything–and that includes our skin problems. However, the human body is complex and, on top of that, everyone's different. Above, we've given you a few guidelines on how to choose a good hand cream and recommended a few reliable products; hopefully, one of them will work for you.
However, the most important thing is to figure out what your body needs, and be patient in your search. As long as you don't stop looking, the perfect hand cream will come to you.