Top 10 Best Curl Defining Creams to Buy Online 2020
Do you ever look in the mirror halfway through the day and wonder what happened to your beautiful, shiny curls? Curls are great. But if you've had them your whole life, you might have a love-hate relationship with them. When hydrated and nourished properly, you're left with beautiful curls. But when it's 90% humidity or you've bleached your hair (a lot), the result might not be so flattering.

Creams, gels, sprays, mousses, leave-ins; you've heard of them all. And chances are, if you're reading this, you've tried them all, too. It can be a bit overwhelming and quite frankly, costly, to figure out which ones work best for your hair. So, in this guide, we'll show you how to find the right curl defining cream for you. And if you're still a bit stuck, we'll list our top 10 favorites.
Last updated: 10-24-2019
359 views
How to Choose a Curl Defining Cream – Buying Guide
If you've got curls, you've probably tried dozens of curl-defining creams to help you nourish and maintain them. And you still might not have found the right creams for your hair. There are just so many products out there, so we decided to ask Sylvia to help us sort through the good and the bad.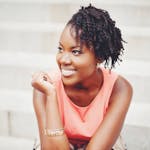 Sylvia started her natural hair journey over 10 years ago. Back then, she struggled with a dearth of information about natural hair, hair care, and hair products. And now, in 2018, she knows that people are overwhelmed by the opposite: hoardes of online information, with no way to separate truth from fiction.

And that's why she founded Curls Understood, a site that curates content from around the web so you know just what to do with your hair. Her success as a blogger has also led her to write 2 ebooks about natural hair, as well as contribute to platforms such as Allure and Buzzfeed. Learn more about her and your curls at her site below.
Gels, Mousses, or Creams: Depends on How Much Hold You Want and the Feel You Want
A cream will give you lots of moisture and bounce, but if you're looking to keep your hair styled up and in place all night, it won't do the job–you'll need to add a gel. Let's take a look at when you should use gels, mousses, and creams.
For a Strong Hold, Choose a Curling Gel

Gels typically provide a stronger hold with more control. However, they offer less body.
If you do prefer a curl-defining gel, be careful not to apply too much; otherwise, it'll leave your hair looking quite wet and crunchy. And if you've got fragile hair, gel might be too harsh. There are also spray gels, which gives your hair a little more bounce.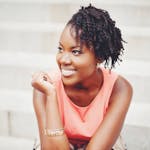 Most curly girls use gels for finishing a style. So maybe after you've put your hair up in a bun or any type of style where your hair is up and away from your face. They usually use gel to smooth the parts leading up to the fastened hair. For this, a gel's essential.

I think it works great for women who have a looser curl pattern or beach waves, as opposed to someone who has an afro. If you have an afro, you can't actually see the curls until you get really close, which means the curls are smaller. For those smaller curls, gels don't work as well. People who have kinky hair or who are in the 4a, 4b, or 4c scale probably don't have as much success using gels.
For Added Volume, Go with a Mousse

Mousses are for you if you're looking for added volume and bounce. They provide a light to medium hold, so they work great with finer hair.
Unfortunately, though, a lot of mousses contain drying alcohols, so if you choose a mousse to help define your curls, make sure it doesn't contain those alcohols.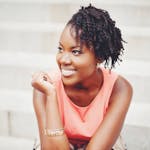 I don't really use mousses. Mousses are for the opposite end of the scale. They're more for the beach waves or looser curls. They're really good for holding the curl, but in a light way. So if you think about gel, it's a thicker product and when it dries, it leaves your hair crunchy, but it gives more hold.

Whereas, you would use a mousse to encourage softer curls. After it dries, the hair isn't going to feel as crunchy. But again, more so for people with looser curls, as opposed to afros. I don't know many people with the 4a, 4b, or 4c hair who would use a mousse. If you have thicker curls, you'd have to use more product. If you have looser curls, it makes your hair softer and bouncier and light.
For Ultimate Moisture, Look for a Cream

The rule typically goes like this: the tighter your curls are, the dryer and more fragile they are. If you're a type 3 or 4, you know this fact all too well. But, if you sufficiently nourish and hydrate your curls, you'll be left with soft, manageable, defined curls.
Creams generally provide the most moisture, but only offer a light hold. They can be advertised as leave-in-conditioners, as well. They can even help add some volume and bounce, but only if you avoid applying at the root. They'll add control to any curl type; however, if you're looking for a strong hold, they probably won't deliver.
Make sure when you're using a cream, you apply it when your hair is still damp. Get one with moisturizing botanical ingredients, like chamomile, jojoba, or olive oil. Sylvia also mentioned to look for water as the first ingredient and something that isn't drying as the second ingredient. She likes glycerin because it's moisturizing.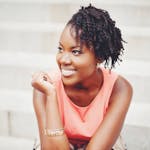 Curling creams moisturize my hair, but they can also be great styling products. I may use something heavier, like a gel or butter, when I first style my hair after I wash it. But then during the midweek, when I want to refresh a style, creams work really well. They give you moisture and kind of refresh your curls that are a few days old in between washes.

Creams are great for enhancing the curl. You would have to spray water to activate the curl, then you would use a cream to enhance the curl, and then maybe a little gel to hold. If you want a strong hold that lasts, you'd use a cream and then a gel. Some of the creams that I use are even marketed as leave in conditioners.

My favorite curling cream is Shea Moisture Curling Souffle--I love the smell and its not too heavy. I usually twist my hair with it and when I let the twists out to make my hair crinkly, they're still fluffy and have movement; they're not weighed down by the product. For loose curls, Ouidad or Deva Curls have good creams.
Tame the Frizz and Keep it Shining

You'll need an anti-frizz curl defining cream with natural oils to give you added shine, define curls, and help reduce frizz. You'll typically find a variety of gels, mousses, and creams that contain these properties.
All curly girls probably deal with frizz, but if you've got tighter curls, it's typically harder to tame frizz, especially in humid climates. Women with looser curls typically will find more success using an anti-frizz curl defining product.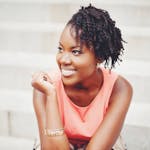 I personally deal with frizzy curls by not wearing my hair out often in the summer. When it's humid, I'll usually wear my hair back because if I wear it out, by the time I get to where I'm going, the curl definition is completely gone and it's more of an afro than a defined curl.

I personally love to wear my hair up, so you can still see some of the crinkles in my curls—or maybe wear head scarves. If I have to wear my hair out, I will maybe use more gel and a lot of water while styling my hair, to encourage the curl pattern.

But sometimes it doesn't matter—if it's too humid, it'll frizz. Some people use frizz control serums. But those don't work with my hair type. I would say if you have a looser curl, then frizz serums or a light natural oil are really good. Gel is definitely more effective for frizz control than cream. The first ingredient in creams is water, so they are more prone to frizz up.
For Permed or Bleached Hair: Avoid Heavy Creams and Further Damage with UV Protection

So, we all know we have to protect our skin when we go out on a sunny day. But our hair deserves no less TLC. UV rays can be just as detrimental to hair as it is to skin–chemically-treated hair in particular. UV rays can dry out the hair, resulting in brittle, frizzy hair. Not to mention, they can disrupt chemical processing in permed or colored hair.
Also, avoid creamy formulas, since they can weigh the curls down. Mousses and light creams complement a permed do. If your hair has gone through chemical processing, or if you simply spend a lot of time out in the sun, look for a lightweight curl defining cream containing SPF.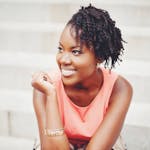 With permed curls, you would still use a water-based cream—the same as someone whose curls are natural. It's necessary to deep condition when you bleach or perm your hair so you can put moisture back in and limit chemical damage.

For straight hair, the natural oils that our scalp secretes just runs down. But for curly hair, it's harder for those natural oils to get from the scalp to the ends, so a lot of us suffer from dry ends.

If you're worried about sun damage to your hair, look to see if it specifically says that it helps with UV. Otherwise, most curl creams won't protect you from the sun. On a regular day, you're not outside the whole time, so it's not that big of a deal. But if you know you're going to be in the sun, find a product that specifically says that it has UV protection.
Avoid Build-up: Stay Away from Silicones, Non-natural Oils, and Waxes

A lot of curly girls tend to skip a day or two of shampoo-ing, to keep their hair moisturized. But in between those washes, we tend to use curl-defining creams. So to avoid build up and itchiness, try to stay away from silicones, waxes, and non-natural oils. If you must, look for a clarifying shampoo to get rid of the build up.
Silicones typically end in suffixes like -one, or -xane, like dimethicone, so they can be easy to find. Mineral oil is a common non-natural oil that you should avoid if you can. Additionally, waxes like bees wax or candelilla wax can build up in your hair quickly.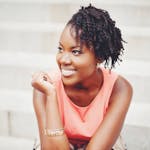 If you must use a lot of products, maybe use lighter products; gels are always bad for build up, but creams are better. You can also use a mud or clay wash—it's like a natural kind of way of clarifying, but it's quite messy.

Mineral oil has no nutritional benefit to hair at all. Mineral oil was just a filler ingredient, so definitely stay away from it if you can. Bees wax isn't the best because it's very sticky and hard to get off your hair, but people love it because its an alternative to gel. But I don't like it and I would avoid it.

Silicones have gotten a really bad reputation in the curly community, but as long as its one of the kinder silicones that isn't as stripping, it should be fine.
Alcohols: Which to Avoid and Which to Look For

For products that are going to be rinsed out, like shampoo, drying alcohols might be okay. But you're probably going to use a curl-defining cream all day, so it's important that you avoid drying alcohols. They include SD alcohol, isopropanol, ethanol, propyl alcohol, ispropyl alcohol, and more.
That being said, some alcohols actually help keep your hair moisturized, so look for them when shopping. They include stearyl alcohol, lauryl alcohol, cetyl alcohol, behenyl alcohol, and others.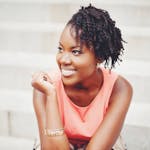 It's hard to find products that you're going to buy off the shelves without alcohols. Some of them are also in there to help preserve the products. The reality is, if it doesn't have some of these ingredients in there, by the time the products get from the factory to the store and someone buys it, it's going to spoil.

If someone is really worried about it, they can make their own products. I also have a section on my site about making your own products. Also, if a drying alcohol is not one of the first 3-5 ingredients on the list, it should be okay.

People should educate themselves on the alcohols that are better, so they know which to avoid and which ones not to. Maybe put a list on your phone and then you can look at it when you're shopping.
Top 10 Curl Defining Creams to Buy Online
If you still need a little push in the right direction, here are our top 10 picks for curl defining creams, including some of Sylvia's favorites!
6. Brio Geo Rosarco Milk Reparative Leave-In Conditioning Spray
$20.00
So, there you have it! Curls can be a wonderful, beautiful thing when nourished properly, so remember to give them some TLC. Hopefully we've helped you get a better understanding of how to look for and choose a curl defining cream for you, whether it's a leave-in, mousse, cream, or gel.