Top 10 Best Dog Carrier Backpacks to Buy Online 2020
Dogs aren't pets; they're family. If you're like most Americans, your dog is your constant companion on adventures, and you go nowhere without him or her. We hear a lot about dogs with separation anxiety, but–just between you and us–we think humans suffer from it too. Fewer and fewer people are leaving their dogs at home nowadays, giving rise to a market for dog carrier backpacks (mostly for small dogs).

With a dog carrier backpack, you can take your dog onto planes and through crowded plazas where they might otherwise get crushed underfoot. And he or she can stay close to you the whole day in luxury. It's a win-win situation. So, in this guide, we'll cover how to choose the best out of several options for dog carrier backpacks.
Last updated: 10-24-2019
315 views
How to Choose a Dog Carrier Backpack – Buying Guide
We are unfortunately not certified pet trainers. So, to get a better idea of just what kind of carrier your pooch might appreciate, we turned to April, the voice behind the lovable blog, Tenacious Little Terrier.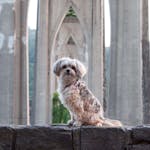 Voice Behind the Tenacious Little Terrier
April
The Tenacious Little Terrier is Mr. N. He's a Maltese Yorkie with beautiful grey-blonde hair and the long legs of a model. He loves posing for photos (see left—photo credit goes to Kolu Photography), and he dislikes staying at home. So he goes almost everywhere with his humans.

He and April are the driving voices behind the blog, Tenacious Little Terrier. They have all kinds of advice—tips on how to adventure together, of course, as well as training tips and other helpful pointers. Check it out below!
Kennel or Baby Carrier? All-Encompassing Carriers are More Comfortable for the Dog

First off, there's two main types of dog carriers. The more Instagram-friendly ones are the ones that look like baby carriers, where the legs of the dog hang out. Adorable, yes. But they leave your dog with very little space to stretch their little limbs and can cause cramping. Some dogs look happy enough in them, but we can't recommend you take the chance.
Then there are those all-encompassing carriers–they kind of look like a kennel or little space pod on your back. These are far more suited to long plane rides or treks in the forest. There's no risk of chaffing. You don't need to worry about your dog getting overheated with all of that fabric close to their body.
There's just so much less risk associated with space pod carriers, so we recommend them over the type where the legs dangle. And if you're worried about bulk, they come in different shapes and sizes. And some of the designs are quite streamlined.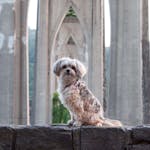 Voice Behind the Tenacious Little Terrier
April
[Legs-out dog carriers] are cute but we don't really use them because I've seen reports from some canine fitness experts that they can put a lot of stress on your dog's body. It's a stressful posture for them to maintain for long periods because it's not natural—like they don't sit like that.

And [enclosed carriers] can be easy to store. The Sleepypod Air folds down so when you store it, it's flat. And we don't have this feature—I'm thinking about getting it—but it has an option where they also sell heating pads that you can insert into it.
Materials: Nylon, Polyester, and Oxford (They're All Durable, but Differ in Quality)

Polyester is both durable and breathable, and it dries quickly. Just slightly more durable than polyester, nylon is known for weather-resistance. While there's no way you can keep wind and rain completely away from your dog–not unless you give up proper airflow–nylon absorbs very little moisture and holds up well to sudden May showers.
Canvas is comfortable, but it's not as strong against tearing, so we wouldn't recommend it if you have a dog that likes to scratch. Oxford is thick and durable, but has a slightly rougher texture to it.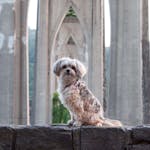 Voice Behind the Tenacious Little Terrier
April
The majority of the carriers that we've used have been made with nylon. I like them for their durability.

If you ask Mr. N, he just usually wants the softest material, lining-wise. The carrier that he mostly uses, the lining feels like fake fur—that kind of very plush and smooth texture. So that's his main criteria.
For Ventilation and Visibility, Find a Carrier with Mesh Siding

Mesh makes sure your dog is getting enough ventilation. He or she will need it to breathe, but it gets all the more important if you're heading to a hot and steamy resort for vacation.
And if your dog's curious, it gives them a window into the world. Many mesh windows also unzip, so your dog can poke his or her head out and catch a breeze or crane their necks to take in a sight.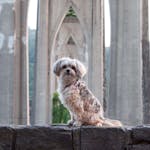 Voice Behind the Tenacious Little Terrier
April
Generally speaking, the more ventilation and airflow, the better. But in cases where you have a really anxious pet, having less mesh might be more comforting for them.

I've seen options where there's a flap that detaches to cover some of the mesh or where there's a privacy screen that you can pull down—an in-between option like that might be good so you have the best of both worlds.
Weight Isn't Everything; Check Height and Length and Add 2-3 Inches

A common mistake humans make? Purchasing a dog carrier backpack after only confirming its weight limit. Along with weight, make sure to measure your dog's (standing) height from the top of his or her head to the floor, as well as length–from the tip of his or her nose to the tip of the tail. Add 2 or 3 inches to those measurements.
This will ensure that your dog has enough room to be comfortable, but not so much that they will get tossed around.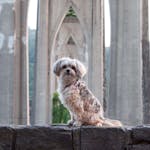 Voice Behind the Tenacious Little Terrier
April
I think [whether a carrier can get too big] depends on the activity that you're doing. If you're just walking, it's probably fine, but we take Mr. N biking sometimes. For that, I would want something snugger just so he doesn't get rattled around in the carrier when you're going at a higher speed.

[With sizing], I look at the measurements of the carrier, and I know Mr. N's measurements off the top of my head, and I compare. I also read reviews and see what other people are saying about how sizing works for their dog and just accommodate for that.
Travel Safety: Look for Carriers that are Airline Approved and Crash-Tested

First off, road trips. April introduced us to the Center for Pet Safety (CPS), which is an advocacy organization specializing in consumer and animal safety. They ran a series of crash tests, where they strapped carriers into backseats and simulated a car crashing at 30, 40 mph. Some carriers flipped off the seat; some of the test dolls were sent hurtling out of the carrier.
Long story short: if you plan to use the carrier in the car, make sure it's CPS-approved. Unfortunately, there are currently no backpack carriers that have been tested by the CPS and given the green light. At this point, we'd recommend using a harness or kennel that does meet safety standards for car rides, and regularly check the CPS site for updates.
Some carriers are airline-approved or can be converted to accommodate airline regulations. Riding in the undercarriage of the airplane is stressful–so if you're planning to fly, try to bring your dog into the cabin. However, make sure you read the product description carefully, as airlines have different regulations. Just because one plane accepts your carrier doesn't mean they all will.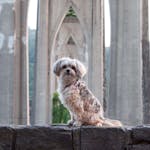 Voice Behind the Tenacious Little Terrier
April
When you're flying, generally you're trying to find a carrier that has the maximum amount of space for your pet but you can still carry onto the plane—because there's only so much space by your feet. So carriers that have some flexibility are convenient; they'll bend so that your dog has more room but will still fit into the space that you're given.

[For plane rides], we use the Sleepypod Air. It has a removable bottom pad that you can throw into the washer. And it's really durable. I haven't put anything super heavy in it, but it handles his weight well and it's easy for him to go in.
Safety First: Internal Safety Harnesses and Reflective Strips

If your dog's a little antsy, look for an internal safety harness. It will keep your dog from jumping out when he or she sees a squirrel.
If you travel at night, there are also reflective strips on some of these carriers. They function just like they would on shoes or a shirt, making sure that cars can see you when they pass you on dark country roads.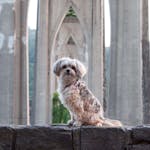 Voice Behind the Tenacious Little Terrier
April
I think [a safety harness] is a good feature to have. However, when we're traveling by air, it limits his mobility a little bit. We don't put it on him if we're traveling for a couple of hours, but we do use it when we're biking with him. Although I think he knows that he's up high, and he generally doesn't try to jump out.

I would not recommend them for people who primarily use collars and don't use harnesses. If you attach your dog's collar to it and they try to jump out of the carrier, then they would end up strangling themselves. So if you are going to use it for the safety aspect, I would use it with a harness.
For Your Comfort: Belts, Buckles, and Extra Padding on the Shoulder Straps

So we've talked about how you can make your dog comfortable. Now, let's talk about features for you. Basically, you want as much padding on the shoulder straps as possible. And see if the pack has belts and buckles that go across your chest and rest on your hips. These will distribute weight more evenly across your body.
Below, April talks about some other features that she, as the human, appreciated.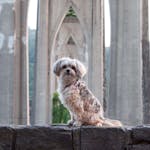 Voice Behind the Tenacious Little Terrier
April
Extra padding is definitely one. Some carriers have a loop or a strap so that you can put it on top of your suitcase so it's easier to carry. I wouldn't do that when your pet was in the carrier, necessarily, but it's good for storage purposes.

Some carriers also have a better warranty than others—customer service is a big one. Once, I posted on social media that our Sleepypod had been stolen; someone smashed our car window and took it. And the company saw that on social media and they offered to send me another one.
Top 10 Best Dog Carrier Backpacks to Buy Online
So we've talked about all these features that you or dog might appreciate. Now, here are ten dog carrier backpacks that actually put these features to use.
8. Texsens Innovative Traveler Bubble Backpack Pet Carrier
$89.99
7. KritterWorld Pet Carrier Backpack
$24.89
6. PetAmi Deluxe Pet Carrier Backpack
$39.99
5. Snoozer Roll Around 4-in-1 Pet Travel Carrier
$131.95
3. Pawfect Pets Soft-Sided Pet Carrier Backpack
$39.95
2. Petsfit Comfort Dogs Carrier Backpack with Good Ventilation
$52.99
Depending on where you're taking your dog, how you'll be getting there, and what you'll be doing, the kind of carrier backpack you need is going to be different. We've pulled together a list of various sorts, so, hopefully, something has caught your eye.