Top 10 Best Halloween Cosplays to Buy Online 2020
A long time ago, people donned costumes on Halloween so all the ghouls and ghosts and creepy things would mistake them as fellow spirits–and so not abduct them. Now that the supernatural's disappeared from our everyday lives, Halloween's become another excuse to dress up–whether in something creepy, or something flat out awesome. Enter the Halloween cosplay.

Cosplay's really been starting to catch on in America. A bunch of shops catering to the US of A have popped up–but how are you supposed to know which sell quality cosplays, and which sell rags? And before we even start talking about quality, how do you decide who, from millions of characters, you want to cosplay? Let a fellow geek walk you through everything.
Last updated: 10-24-2019
492 views
How to Choose a Halloween Cosplay – Buying Guide
When you're choosing something that's so abstract and dependent on personal taste, it can be difficult to know where to start. That's why, this time around, we asked Bree, who has extensive experience in designing her own cosplay. So let's get right to it and talk about how to pick out a character and outfit for All Hallow's Eve.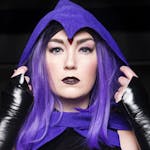 Breezeeweezee Cosplay
Bree
Bree, most commonly known as Breezeeweezee Cosplay, is a curvy, geeky, cosplay gal. She has about four years of original costume crafting experience. With a long history of geek fandom love, she finally found an outlet to share her love via cosplay, body positivity, and social influence.

You can also connect with Breezeeweezee Cosplay on Instagram and spend hours scrolling and admiring her creativity.
Choose a Halloween-Creepy Series and a Character You Can Imitate

So, we start off with the big, holy grail of questions–what series do you want to cosplay? It can, of course, simply be a series you love. Or, in the spirit of Halloween, try for something dark or spooky. The obvious choices would be characters (or creatures) from Japanese horror classics; you can go with anime, like Higurashi: When They Cry, or games, like Resident Evil or The Evil Within. If you're looking for laughs, Ao Oni is also a viable option.
Series that revolve around Japanese yokai are also good stuff. No, we're not just talking Yokai Watch, but something more retro or creepy: like GeGeGe no Kitaro, Ayakashi: Samurai Horror Tales, or its spin-off, Mononoke. Then, there's the stuff inspired by Gothic culture or ancient Europe, like Black Butler or Fate/Grand Order. If you love Vocaloid, try exploring its creepy underbelly, and recreate songs like "Dark Woods Circus" or "Circle You, Circle You."
When it comes to specific characters, there's no "rule" about whom you should dress up as. But, just remember: a unique costume might be more appreciated at a party than something you'll see every corner you turn. Also, choose a character whose mannerisms you're comfortable with imitating, and your masquerade will be that much more real. (Plus, your pictures will be cooler.)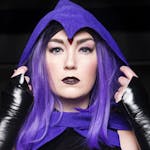 Breezeeweezee Cosplay
Bree
I try to stay away from the spooky stuff, just because I'm not a fan of horror. If I do a classic, spooky thing like a ghost or a witch, I'll try to add a cute spin on it to fit my style. I try to be unique. I don't like to be a duplicate at a party. Do you remember those little toy trolls with the fake hair? I've done that. That was one of my most creative costumes.

I keep up with the trends and what other people are going to be doing. This year, for example, the Marvel movies are really big, so there'll be lots of characters from like The Avengers. Another thing I've noticed is lots of memes get made into Halloween costumes, and those are kind of fun. This year, there was the Kylo Ren challenge where everyone was doing the swole topless thing. It's cool to think about what other people are going to be cosplaying and create my costume based on that.
Make Sure You've Got the Right Number of Characters for Group Cosplays

You, hopefully, won't be trick-or-treating alone. So why not do a group cosplay? They're a lot of fun and leave an impression. Think about how many friends or family members you'll be spending Halloween with, and pick an appropriate duo, trio, or army. (Your writer once saw a father-son pair walking around as All Might and tiny Deku, and it was the cutest thing ever.)
Mushishi is a great series, for example, but you can't cosplay it with a bunch of people–unless everyone who isn't Ginko is cool with being a nameless villager or bug. But if you've got a crew of five, you've got all the main characters of Madoka Magica, right there. If your group is gigantic, try for a long series with a bunch of major characters, like Jojo's Bizarre Adventure.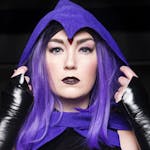 Breezeeweezee Cosplay
Bree
I find it fun doing group cosplays because you get to hang out with your friends and you get to meet new people. My past group cosplays have always been mashups, so each person brings their own design and idea for their character.That way, we don't have to worry so much about accuracy. It lets us have our own personal twists on it, while all coming together as a group.

Definitely my favorite group cosplay I've done is the Disney viking group that my friends and I put together in 2016. There were 7 of us that all got together and did our own Disney princesses as vikings. It was so cool; we all had our big shields and just walked around together. And we entered a contest and ended up winning the level above the one we entered.
There's a Time and Place for Everything: Get Outfits You Can Move Around in

Let's be practical, too. If you're going to be trick-or-treating, do yourself a favor and cosplay a character whose getup is easy to move around in. (As cool as a giant suit of armor may seem, you can't really walk long distances in it.)
If you're going to be at a Halloween party, don't bring any accessories that might break or get lost or tangled in anyone's hair (like a giant scythe). Rethink long hems, too, if they're just going to get dirty or stepped on.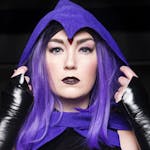 Breezeeweezee Cosplay
Bree
I've had a few malfunctions. One of the first characters I made, Moon Knight, wears all white so his enemies can see him. It's his thing. So he has this long, floor-length cape that's white—and just walking around, it gets completely trashed on the bottom. So, you learn and you just make your cape a little shorter.

I have never gotten along with long wigs, just because they are synthetic. They don't detangle easily, but they tangle super easily, especially if you combine them with necklaces, spiky shoulders, or anything it could catch on. It's a disaster waiting to happen.
If You're a Stickler for Quality, Check for Fabric (Cotton is Good!) and Workmanship

First off, lots of cosplays are made from uniform cloth. It's a cheap blend of cotton and polyester–matte, fairly thick, and good enough for most. Of course, pure cotton is softer and breathes better. Linen's one of the lightest fabrics; it's good for sensitive skin and sturdy. It does wrinkle easily, but you might want that for an old world, Assassin's Creed-style vibe.
Wool, by the way, doesn't wrinkle, but it is hot. It's great if you're up north and things start cooling off around mid-October, but So-Cal Halloween nights are still pretty warm.
If you're looking for lustrous cloth, see if you can get silk–even if it's the cheap synthetic variety. Most cosplays are done in costume (or baroque) satin. It wrinkles quickly, frays easily, and throws back camera glare like nobody's business (and thus looks cheap). You want to avoid this. Spandex blends offer a lot of stretch and don't restrict movement. Pure polyester's also popular because it's cheap, but it doesn't wick moisture and can feel suffocating.
Finally, a note about workmanship. It's, of course, hard to check for this kind of stuff online. But, to ensure you're getting what you're seeing, reviews and brand recognition are your best bet. And you might want to look at the websites of actual costume brands, as some sellers use pictures from other websites.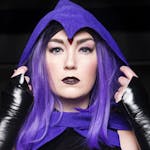 Breezeeweezee Cosplay
Bree
The most comfortable fabric is always going to be a stretchy fabric because you can do whatever you want in it; you're not limited. Anything that's fitted with no stretch in it, you want to make sure it's sized properly, or else you're going to be limited in movement and comfort. I like Zentai suits, which are made from a spandex/lycra. It's very stretchy, so the whole suit is super easy and convenient for Halloween.

I know there are lots of costumes that have a shiny texture because of the character—just avoid flash if you are using that material. It is fun to have a shiny costume if you don't want to completely limit yourself.

Another thing is pure black and pure white. Pure white will wash out because the details disappear. Pure black, you also lose a lot of the details; if you're wearing a texture or pattern, it'll just look like a solid color. You can try a charcoal and layer it with black, depending on your details and texture. And for white, you can use an off-white, like beige or a very light gray, depending on the character.
Make Sure all the Accessories are Either There or Easy to Get

It's a simple thing, but make sure the outfit comes with all the accessories you're going to need. Some of them don't come with hairpieces, weapons, masks, necklaces, and so on. You can get them separately, but it's going to cost you. On the other hand, some accessories that come in kits may be cheaply made.
We'd also venture to say 99% of cosplays don't come with shoes, just because sizing's such an issue. And getting fancy boots custom-made is going to cost–think Altria Pendragon from FGO. If you're looking to pinch pennies, cosplay a character with simple shoes: plain black boots or loafers.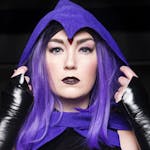 Breezeeweezee Cosplay
Bree
The pro here is that everything is included; you don't have to look for props elsewhere. The con is that it could be cheap and not what you're looking for. But I really like props just because, if you're taking a lot of photos, you have something to do with your hands.

If your cosplay kit doesn't come with shoes, I would start with an old pair of shoes that you don't mind destroying. You could make a removable cover, which is just a stretchy fabric that you pull over the shoe and your leg. It's often done for anime characters, where you want a fitted, thigh-high boots kind of look. For more complex things, like an armor style, you can easily glue directly to the shoe.
Top 10 Best Halloween Cosplays to Buy Online
Figure out exactly who you want to be yet? If you're still groping around for ideas, here are 10 of our favorite cosplays that'll put a spin on your Halloween night.
10. Mtxc Women's Puella Magic Madoka Magica Cosplay Dark Homura Akemi
$106.00
7. Holran Devil May Cry 5 Dante Men's Leather Coat Jacket Cosplay
$135.99
6. Aliceeve Little Witch Academia Cosplay Costume Full Set
$46.90
4. Miccostumes Men's Protagonist Phantom Thief Cosplay Costume Mask
$89.99
3. Cosonsen Fate/Grand Order FGO Monte Cristo Edmond Dantes Avenger Cosplay
$129.99
2. CosplaySky Final Fantasy XV Costume Lunafreya Nox Fleuret Dress
$109.99
You're pretty much stuck as yourself for 364 days of the year. So, for Halloween, at least, why not cross into the wonderful world of 2D? We've lined up a bunch of spooky, entrancing, and super chill cosplays for you; hopefully, something's made you stop in your tracks. Happy trick-or-treating!