Top 10 Best Jelly Beans to Buy Online 2020
So, you're craving jelly beans. We understand–good beans are irresistible. You're looking for that initial crunch, followed by sweet, delectable gooeyness. You're looking for your favorite flavors–the sunny intoxication of pina colada, maybe, or the sour fizz of lemon.

And are we the only ones that find jelly beans utterly adorable? (Pour a few in a Mason Jar, and you've got interior design, right there.) The ultimate pack of jelly beans, we think, has got it all: texture, taste, and appearance. But with all the different brands–no, it's not just Jelly Belly–and variety out there, how can you be sure that you're really chewing on the best? Let's get in-depth about these gelatinous beans.
Last updated: 10-24-2019
1,182 views
How to Choose Jelly Beans – Buying Guide
You probably snacked on these as a kid without a care in the world. But, the truth is, there's a certain way to go about looking for jelly beans. So, this time around, we asked the Candy Critic for his take on what makes a good bean.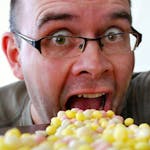 Originally hailing from Canada, the Candy Critic is a globe-trotter. He's visited and lived in various countries, and has feasted on delicacies and candy from all corners of the world.

He runs and pens the Candy Critic blog. You can also follow his adventures and read his candy reviews on Twitter and Instagram.
How Are You Supposed to Enjoy a Bean If It Doesn't Taste Good?
A jelly bean is a kind of snack. And snacks are a kind of food. And good food must taste good. So, first up on our quest to find the perfect jelly bean: flavor.
Picky Eaters, Go for Smaller Assortments: Traditional Flavors

If you love all the original 49 or 50 flavors of Jelly Bellies, great. Go ahead and snatch up that variety pack. But picky eaters typically turn their noses up at over half the flavors–like chocolate and cinnamon and licorice beans.
Well, now, that you can get small assortments of beans, limited to 6 or 8 popular flavors. That way, you don't need to spend hours searching for your favorite fruit and beverage flavors–like cherry, watermelon, cola, pina colada, and blackberry.
The general rule of thumb is this: the stronger your likes and dislikes are, the less flavors should be in the pack. Or, actually, you could go for broke and get a bag with a single flavor. (So you never have to fight over the last Sunkist Tangerine ever again.)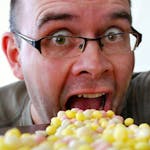 If I were buying a gift for a friend who wasn't into candy, I wouldn't go with anything crazy. I would go with simple fruit—you know, call it a fruit salad. The majority of people are going to like it. Creatively, it's the cheap way out; logically, it's the flavor people are actually going to like.

But the thing I find with some of the more obscure flavors, like the cinnamon—Jelly Belly used to come out with a recipe book every year. And it would have combinations of Jelly Belly flavors that would make another flavor. So, if they didn't have a cappuccino variety, they would say, take this creamy flavor and take this coffee one and put them in your mouth at the same time; you get a cappuccino. Take a cinnamon on top of that, and you get a cinnamon pour on top of your cappuccino. So there were certain flavors that were always good for a recipe, but not necessarily good just to eat.
Want to Eat Ice Cream in Jelly Bean Form? Look for any Special Themes

Jelly Belly gets around. At this point, they've gone through so many collaborations you can find almost any type of food in jelly bean form. You've got Krispy Kreme Doughnuts, Cold Stone Ice Cream, Dr. Pepper, A&W Cream Soda, Snapple, Pancakes… We're not saying they're all equally delicious; we just want to let you know they're out there.
Many brands have also introduced mixes that are pure fruit (like Jelly Belly's Superfruit Mix, Brach's Island Fruit, or Welch's Assorted). If you're feeling daring, you can always get bags that are all spicy or sour. (Warhead's does have its own line of jelly beans–but, before you start rubbing your hands together and planning all sorts of mischief, know they're not that sour.)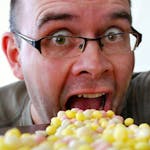 Food science is an ever-expanding field, as far as developing synthetic flavors that you can stuff into a Jelly Belly. Certain flavors work really well, and certain flavors are just so new. And one of things I discovered is sometimes a flavor requires a texture as well to really work.

With fake creamy flavors, you don't get that cold, fatty mouthfeel, and it just feels weird. I haven't tried the Krispy Kreme jelly beans—though there's no reason why I wouldn't—but I imagine that that might be a little weird, texture-wise. When you get to the nuanced flavors, you're always going to have a limited number of sales.
Are You Planning to Play Pranks? Last but Not Least, Disgusting Flavors

Of course, there's always the mischievous people out there who collect odd flavors. If you want to play pranks, then by all means, get Bertie Bott's classic vomit and grass flavors (your humble writer likes the latter, actually). Jelly Belly has also come out with new crowd pleasers, like spoiled milk and dead fish.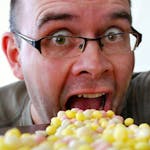 The Harry Potter flavors are a bit of a gimmicky thing. When they first came out, I was actually at a Chicago candy convention, years back. And I got to try the vomit flavored one. And I do not want to eat any more of those. Well, I tried it; it was a fun experience, but I can't picture ever buying a bag of those and actually eating them.
Get Beans That Have Crunch Without but Are Soft Within: Texture

Some beans are like little stones or old jerky (especially if they've been left sitting for a while). A good jellybean has got an exterior that's crunchy and an interior that's the perfect amount of chewiness–just enough to slowly give way as your teeth slide through, but not enough to get stuck in the little grooves of your teeth.
The best way to check for texture, of course, is by eating. And if you're at a store that lets you taste test, be our guest. But if you're a purist and must buy online, rest assured–if the bean hasn't got that satisfying shell and soft jelly belly, people are going to complain. Check the reviews.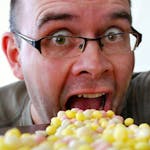 I think there's no golden ratio for jelly beans—between outside and center. For me, it's more about consistency. If you're adding a texture to a candy, you want to make sure it suits the flavor. So a harder shell might work better with certain flavors.

Jelly Belly tends to have more crunchy beans, since they're smaller. Whereas your standard bulk jelly beans—since they're a little bit bigger—tend to have more squishy stuff in the middle, and the texture of the outside tends to be less predominant.
Want Jelly Beans That Are Color-Coordinated or Shine Bright like a Diamond? Appearance

Jelly beans can be beautiful things. Some are color-coordinated for Valentine's Day; some are jeweled and look like little pearls. Interior decorators: you can pour a bunch of aquamarine, navy, and sky-blue ones into a jar, and recreate the sea. Moms and dads: if you're looking to top cupcakes and give out party favors at your next princess party, consider some lustrous whites or pinks.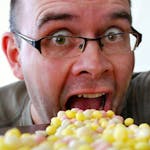 Jelly Belly has the best range of looks. I really haven't seen anything that spectacular, though they had the shimmering ones for a while. And around Easter time, you sometimes get slight variations on color.
Are You Going to Be Displaying or Hiding Your Beans? Size and Packaging

Yes, packaging matters. It's little things like this that will save you a lot of pain and heartache in the long run.
For those on the go: plastic bags, of course, are the most compact, and you can fold the top over as you work your way through the bag. Extra brownie points if it's resealable–because nothing is worse than a stale jelly bean. If you're buying a gift for a jelly bean-loving coworker, go for a box or jar. Jars also make lovely interior decoration.
Finally, if you are of the generous sort and share your beans, get a plastic tub. They stand on their own, and you can just stick a spoon in to give each kid (or student, if you're a teacher) a helping. No more gingerly trying to shake the bag with just the right amount of strength to get just the right amount of jelly beans out. Plus, tubs are the easiest to close up again, so they're the best at keeping your mountain of beans fresh.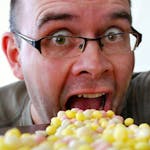 There's two points to packaging. Packaging can keep something fresh. In that case, it can be very important, since stale food can be the worst.

But there's also certain expectations, connected to how jelly beans are packaged. I remember a while back, Jelly Belly sent me this sample—it was like a bouquet. And they sent these floral-type fruity flavors, and that worked. If I had had a root beer one in there, it would've been weird. Presentation gives you an expectation of where you're going.
Top 10 Best Jelly Beans to Buy Online
Your appetite has to be piqued by now. We won't keep you waiting any longer. Here's our pick for the 10 best jelly beans you won't be able to keep your sticky fingers away from.
10. Jelly Belly 4th Edition Beanboozled Jelly Beans Spinner Gift Box, 3.5 oz
$5.95
Food, Food, Food! More Articles You May be Interested in

As much as we'd love to, we can't survive solely off of jelly beans. We've written about other delicious (and healthy!) munchies below. Give the articles a read, if only to work up your appetite.
You might be looking for delicious jelly beans that'll transport you right back to 5th grade, recess on the jungle gym. Or you might be looking for nasty jelly beans that will wreck a bit of mayhem. Either way, we hope what we've got lined up here has managed to bring a smile to your face–whether it be wistful or mischievous. Happy snacking! (Or pranking!)