Top 10 Best Foundations for Dry Skin to Buy Online 2020
Don't you hate it when your skin doesn't look like skin? Those days when your foundation gets caught on every dry patch you have and separates around your lines. You flake and you shed like a snake–and while the grey winter skies are lovely and Christmas is in the air, the weather really doesn't help things.

And just because a foundation says it's moisturizing doesn't mean it's actually moisturizing. And there's so much else to worry about. Will it clog your pores? Cover your blemishes? Will it look natural on you? It's true that everyone was born into different skin, but there a few general guidelines you should keep in mind next time you go shopping.
Last updated: 10-24-2019
481 views
Care to Explain to Me Why My Skin is So Dry?

The term "natural moisturizing factor" (NMF) was coined in the 1950s. It refers to the natural humectants (substances that attract water), such as ceramides and hyaluronic acid, which draw moisture into our skin and form a protective barrier between us and the outside world. And NMF is like the lid on a pot; it prevents the water in our skin from evaporating.
However, as we age, this barrier thins. So time can contribute to drying skin, as can external factors like air conditioning and the sun's rays. A good foundation (and skincare routine) counteracts these issues; it doesn't only serve to moisturize skin, but it also assists the NMF by repelling UV rays and other irritants.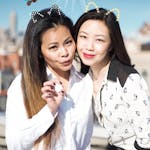 In the winter, I have a humidifier on at almost all times. At work, I have a portable humidifier pointed right at my face, which can sometimes smear your makeup. At home, I have a humidifier right next to my bed. Also, my apartment is a pre-war NY building, so the heat comes from a steam radiator. This helps a lot.

In addition, I put on tons of moisturizer. I use multiple layers of serum, night cream, and a night mask to seal in the moisture. I often use eye cream as a facial moisturizer because it is thicker. I have to wear hats in the sun. And you can also always avoid things like alcohol and cigarettes.
How to Choose a Foundation for Dry Skin – Buying Guide
Unfortunately, your writer has skin so oily you could fry chicken in it. But to properly understand skincare and makeup, you need experience, as well as information. So this time around, we reached out to Renee, a beauty guru who has to do battle with the cold, dry winters of New York.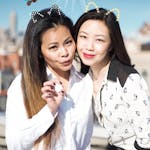 Renee (the lovely lady on the left, if you're wondering) is one-third of Beauty and the Cat. The other two-thirds consists of her pal Angela, whom we interviewed about hand creams, and the kitty beauty consultant Roxy, whom we unfortunately did not get to interview.

Both Angela and Renee have experience in the beauty industry and a love for anthropomorphic cats. They combined their passions to author the beauty-and-cat blog Beauty and the Cat, which may be one of the funniest blogs about skincare around. Visit them and the ever glamorous Roxy below!
What Type of Foundation is Best for my Dry Skin?
Let's start off basic. Real basic. Like, what's the difference between cream and powder foundation basic. It's the easiest way to eyeball if a foundation is going to work for you. However, if you already know all of this, feel free to skip ahead.
Cream Foundations Moisturize for a Long Time and Give you a Lot of Coverage

Most of the time, cream foundations have a lot of oil in them. They're thick, and if you come by a moisturizing formulation, they can keep your skin hydrated for hours (though there's always a few bad apples in the barrel).
Most cream is full-on coverage, so you get to kill two birds with one stone: hydration and blemish correction.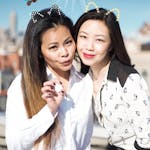 I don't like to use cream foundation in the summer time because it feels too heavy. It gets cakey because of the texture; it's almost like a layer of Vaseline on your face. It will be hydrating, though. I wear cream mostly during the wintertime.

But thicker cream foundations can also age people because it settles into your lines. It's a very heavy look, and I would say the older you get, the less makeup you should appear to wear.
For a More Natural Look, Liquid and Cushion Foundations are Easy on the Skin

Let's get this out of the way first–cushion foundation is just liquid foundation, but in a compact. You want it when you're on the go and you need something you can throw in your makeup bag and put on in the car. Liquid–and cushion–foundations are good because they come in plenty of moisturizing formulas and blend out easily.
They can be light, medium, or full coverage, and even the lighter ones, you can usually build up to at least medium coverage. In general, they are lighter and thus easier on the skin than cream foundation, so they're a good choice if you're worried about damaging your skin with too much makeup.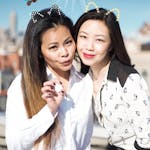 I use liquid or cushion foundations when I need a tiny bit of coverage and want to look put-together for work meetings or video conferences but not overly done-up. It's just enough coverage and is still moisturizing enough.

Liquid and cushion foundations are both a little more versatile than cream because you can wear them in hotter weather as well. Since the coverage is lighter, you can build with multiple layers. However, I've found that they aren't as long-wearing and can rub off with sweat.
If You Must Have the Convenience of Powder, Look for a Moisturizing Formula

This much is obvious: powder foundation doesn't contain a whole lot of oil. Ten years ago, we might've even said none of them are suited for dry skin, but technology has changed and the beauty industry has changed. Nowadays, there's powder foundation with moisturizing formulas. Mineral foundation also has a dedicated following who swear it's best for sensitive skin.
Powder's popular because it's versatile; like liquid, you can get it in full, medium, or light coverage. It's fast and easy to apply, though loose mineral foundations can get pretty messy.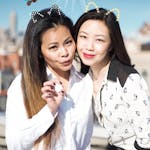 I wouldn't say powder is great for dry skin; you have to moisturize a lot to keep it from getting patchy. But powder foundation does have a lot of staying power, so if you have occasions like weddings or portrait shoots or you need to be on stage for a show, that's the way to go, no matter what—whether you have dry skin or oily skin because it will stay on much better.
See if There's Moisturizing Ingredients like Hyaluronic Acid and Ceramides

Remember when we talked about NMF? It turns out that when you put those same substances in skincare products, they work the same way–that is, they draw moisture into your skin and shield it from irritants. That's why hyaluronic acid and ceramides of two of the holy grail ingredients for, well, anyone, but especially for people with dry skin.
Squalane oil is another member of the NMF crew, though our skin produces it as squalene. But squalene is unstable and oxidizes as soon as it's introduced to air, which is why the hydrogenated form, squalane, is used in skincare. Once upon a time, squalane was derived from shark liver, but nowadays, it's usually harvested from plants, which is more sustainable and cruelty-free.
These three ingredients are pretty effective because our bodies are familiar with them. Our bodies recognize the NMF crew when they're used in skincare products and know how to utilize them to hydrate and protect skin. Below, Renee shares a few shortcuts to picking out a moisturizing formulation.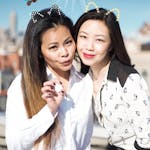 I generally ask for advice from my friend and look at the first few ingredients to see whether there's oils or alcohol, which can cause me to break out or cause my skin to go dry. I also don't like silica in the ingredients because it seems to be "cheating" by artificially increasing smoothness. You put it on and your face is so smooth, but what you're feeling is just the silica.

Sometimes, I experiment with the brand of my moisturizer. La Mer, for example, I like as a moisturizer, so maybe their makeup would work well. People tend to separate skincare and cosmetics—one is a treatment and one is makeup. But if they want to try something good for their skin, then they can stick with the brand that does the skincare.

Also, I often use price as a proxy for what ingredients go into the product. If it's really expensive, it must have unicorn dust in it or something. But it's mostly personal trial-and-error and reading reviews.
Want to Be Gentle to Your Skin? Get Formulas that Go on and Come off Easily

If the foundation doesn't spread easily, it will need to be pulled and prodded into your skin. If you tug at your skin, you can irritate it and dry it out more. Morale of the story? Get foundation that spreads easily. Light formulas can give you good coverage if you're smart about it. Build them up with a brush or tap them in with a beauty blender so you don't stretch your makeup too thin.
Likewise, if you get a clingy foundation, you'll need to either a) cleanse multiple times or b) use a strong remover to get off all the residue. However, if you have dry skin, strong cleansers, such as those containing surfactants, can deprive you of even more moisture. So think about getting a makeup that wipes off easily, even if you need more touch-ups throughout the day.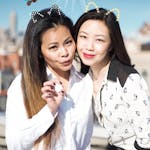 First off, if it's easily blendable, it might not come off so easily. They're on opposite ends of the spectrum. Secondly, blending can be about technique and tools rather than the ingredients. I also know some foundations don't play well with certain skincare products, so applying them after skincare can cause pilling or flaking.

I use pretty caustic cleansers—sometimes even regular handsoap—to take off makeup because I don't want any residue. Usually, the more liquid a foundation, the easier it comes off and the easier it is to blend. That is, unless it has a lot of oils and sunscreen because those are made to resist sweat and water.

But if it's long-wearing, long-lasting, it's going to be hard to take off. So I target it. Do I have a wedding to go to? Am I a bridesmaid? Am I going to be on stage? Then give me the clingy stuff. It's going to stay on. Or I just go light.
Top 10 Best Foundations for Dry Skin
With makeup, it's try, try, and try again. In that spirit, here are 10 foundations that have been tried many times and have worked many times, in hopes that something will work for you.
4. Kevyn Aucoin The Etherealist Skin Illuminating Foundation
$58.00
We gave you some general pointers on how to find a good foundation for dry skin. We gave you a list of foundations that have worked most of the time. But, really, the best thing you can do for your skin is get to know it. Sit down with a dermatologist–or at least in front of a mirror–figure out how your skin works, what kind of ingredients it craves and what it needs to avoid.
Once you've figured that out, finding a good foundation should be a piece of cake.