Top 10 Best Cosplay Wigs to Buy Online 2020
You've seen those GIFs, right? They flash through about 30 anime characters at an astounding speed, and then, you realize–they've all got the same face. In the 2D world, identity is contained in hair. That why wigs are integral to cosplay.

But wigs are feisty things. They get tangled, burn when you curl them, or look ridiculous when you try to sweep them back. But how a wig acts is predetermined by a number of factors: how thick it is, for example, or if the hair's sewn onto the base in wefts. Let's break it down.
Last updated: 10-30-2019
6,826 views
How to Choose a Wig for Cosplay – Buying Guide
How do you know you've found the perfect cosplay wig? Well, if it successfully changes you into someone else. This time around, we asked Ginny Di–a cosplayer who knows a thing or two about metamorphosis–how she goes about looking for wigs.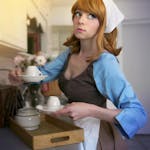 Singer, Cosplayer, Professional Nerd
Ginny Di
Ginny wears many hats--or wigs, shall we say? She sings, she's on YouTube, she constructs spreadsheets, and she cosplays (of course). And she doesn't just cosplay in a single genre; she's in both 2D and 3D, her repertoire spanning from Disney princesses to Final Fantasy to Pokemon to Game of Thrones. It stands to reason that she owns around 50, 60 wigs.

She runs her own site and Youtube channel, where cosplay is just one of the topics she talks about. You can also see more of her creations on Instagram or connect with her on Twitter.
Cheap and Convenient, Synthetic Wigs are a Cosplayer's First Choice

Wigs can be made out of hair harvested off of a human head, synthetic fibers, or a mix of the two. Human hair is more versatile, durable, and natural. But if you're cosplaying an animated character–whether it be a Disney villain or anime protag–honestly, the wig doesn't have to look all that real.
Cosplayers turn to synthetic wigs for a number of reasons. First of all, they're thicker, which means they can stand on end. (That's going to come in handy for Super Saiyan cosplays.) They can also come pre-styled. Unless you're amazing with scissors, it's going to be difficult to cut out, say, Giorno Giovanna's hair. But you can get a wig made in his image, donuts and all.
The thick strands are also amazing at retaining style–though this tenacity's a double-edged sword. The fact synthetic fiber wigs stay put means they can be difficult to restyle. And some aren't heat resistant. (The manufacturer should tell you these things–and if there's nothing written in the product description, then it'll probably burn.)
But they're way cheaper than human hair wigs, so you can amass a collection–one for each of the million and two characters you cosplay–without robbing the piggy bank. Bottom line: most cosplayers go synthetic.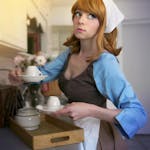 Singer, Cosplayer, Professional Nerd
Ginny Di
All of my wigs are synthetic. The only human hair product I have is some extensions, which I don't use for cosplay—just in my life. Synthetic wigs are usually more affordable and easier to find in crazy colors.

Also, I know that there are a lot of methods people use to style or color synthetic wigs that are specific to them being synthetics. For instance, with synthetic wigs, people might color them using acrylic ink. Basically, some of the materials that people have learned to use with synthetics probably aren't effective with human hair—though I imagine that there are alternatives that you would use.
The Base Under the Hair Determines How You Can Style a Wig
Want to figure out how you can wear your hair? Flip the wig upside down and see if it's wefted or monofilament.
Your Standard, or Wefted, Wig: Cheap and Customizable

A bit of wig terminology: take a strip of fabric, sew a bunch of hair into it, and you've got yourself a "weft." Bring the wefts together, form planes of hair, and, eventually, you'll end up with a wefted wig.
The bad news first: these wigs look the least natural. They don't flow like real hair does. You've got to be careful when styling it too; if you pull it into an updo, you'll reveal the base, and then your wig just looks artificial and awkward. But there's also a big advantage to going for wefts.
Some characters have funky hair–streaks of color in odd places, complex spikes, or elaborate curls. Before you give up cosplaying them altogether, try gathering a few wefted wigs, styling them, and piecing them together. You can add in extra strands for braided crowns, for instance, or join two wigs together for length and volume.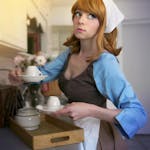 Singer, Cosplayer, Professional Nerd
Ginny Di
Wefts can be really useful for some crafts—like if you're planning on taking apart a wig and putting it together with another wig. You can easily add wefts to wigs to make them fuller. You might want to do a half-and-half wig that's white on one side and black on the other, like Cruella De Vil. For that kind of stuff, I think that wefted wigs are much easier to work with, because when you take the wig apart, you have all of these manageable pieces.

I don't customize my wigs much, but I have a few times. Some characters demand a very specific wig look—and you can do all kinds of crazy stuff with a cheap plastic wig. I know somebody who uses acrylic paint and hot glue to style anime character wigs, and she only feels comfortable doing that because she's working with $10 wigs from eBay. You have a lot more flexibility.
Monofilament and Lace Front Wigs: To Get a Natural Hairline

First things first: monofilament is a see-through mesh that blends into your skin. Strands of hair are attached to it, so the hairline–or anywhere your roots meet your scalp–is very realistic. As long as there's monofilament underneath, you can pull the hair into any style–a ponytail, lolita pigtails, or those dango buns–and have it look natural. Also, mesh is breathable.
Most "monofilament" wigs, however, are a mix of weft and mesh. How much mesh you need really depends on how you want to style the wig. (Just remember: the more lace there is, the more expensive the wig.)
The most common type of monofilment is the lace front, where just the hair that lines your forehead is tied into the mesh. See, with wefted wigs, when you sweep the hair back, you expose all the seams along the base. However, with lace fronts, you can't see the base, and it looks like all the hair in front is sprouting straight from your forehead.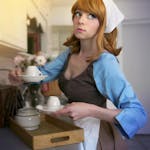 Singer, Cosplayer, Professional Nerd
Ginny Di
I haven't ever used a full monofilament wig, but I use quite a few lace front wigs. I use more now than I used to—now that I have the budget for it.

Generally, if you see the character's hairline, I want to use a lace front wig for that—like Arya Stark. She wears her hair in the later seasons pulled back into a half-ponytail, so the hairline is really visible. Basically, I only use a wefted wig if the character has bangs. And if they don't have bangs, I use a lace front.
Unsure about Color? Check Reviews, or Buy Lighter Shades–They're Easier to Adjust

The number one pain of online shopping–it's so hard to check for color. Pictures and lighting always play tricks on your eyes (as the blue-dress, gold-dress conundrum taught us). If you must have an exact shade, you can browse customer reviews. Usually, people will compare the color of a wig to a character's hair color, and say if it's too saturated, too pale, or just right.
There's one more trick cosplayers can use. When in doubt, always go for a lighter color. That's because it's relatively easy to darken wigs to the right shade–but it's notoriously hard to go the other way around.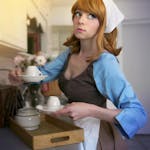 Singer, Cosplayer, Professional Nerd
Ginny Di
Lightening a synthetic wig is almost impossible. There are some ways I think that people have figured out, but they are usually really inconsistent and hard to pull off smoothly.

Darkening a wig is much easier; you can use synthetic fabric dye—like polyester dyes and stuff—on a lot of wigs. You can also use acrylic ink, which you apply with a spray bottle. Some people even use Sharpies; you can actually cut open a Sharpie and take the ink out and use that.
Volume: Thick Hair for Animated Characters and Thinner for Live Action

For some reason, animated characters have all got thick, gorgeous manes that would never fly in real life. That's holds true for every Disney princess ever, 90% of Shonen Jump protags, and poppy cartoons–think Panty and Stocking or Adventure Time. To recreate that effect, you want a wig with a lot of volume. That way, you can spike and layer it–and still have strands to spare.
On the other hand, we three-dimensional humans have hair that sits flat against our head. That's why, when cosplaying live action series–whether it be sci-fi or fantasy–you want a wig that's a little thinner. They look more natural. How do you tell how thick a wig is? Pictures and the brand.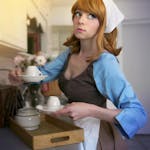 Singer, Cosplayer, Professional Nerd
Ginny Di
In Game of Thrones—even with people who have a lot of hair—their hair looks pretty realistic in terms of how flat it lies on their head. A wig that's too full and has too much volume on the top doesn't look like real hair. Sometimes you want that, like for a cosplay from a cartoon. Like when you're trying to make Ariel's bangs—that's like a second wig on there. For me, whether or not I want a really thick wig changes based on the costume, and I buy from different sources based on what I need.

Arda Wigs is a popular cosplay wigs supplier that has very thick wigs. Lots of fiber, so if you need to style it into spikes or big curls or have huge bangs, you can usually do that with Arda. Sometimes I buy from Wig Is Fashion. They have very full wigs, and most of their wigs are super longs—for big glamorous curls.

When looking for thinner wigs that are more fitted to the head, lately, I've been using Pose Wigs, which is a small independent business. They have some very good, very realistic lace fronts that sit flat on the head. I often get asked if that's my real hair when I'm wearing their wigs.
Sizing: Learn the Tendencies of Different Brands

First off, 90% of people will fit into any standard wig caps. How do you know if you're in that lucky majority? Take a tape measure and wrap it around your head, following your hairline–right above your forehead, over your ears, down to the bend in your neck. If the tape reads around 22, 22.5 inches, congratulations. Your head is of a normal size. (And you're free to buy anything claiming to be one-size-fits-all.)
If the circumference of your head runs larger or smaller, however, you may not fit into standard wig caps. In that case, you're going to have to do some research. Some brands offer wigs in large or petite sizes. Or some brands have wigs that simply run large or small. It's all about a) reading wig cap dimensions carefully and b) sniffing around.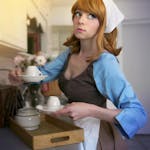 Singer, Cosplayer, Professional Nerd
Ginny Di
I have a pretty small head, and usually it isn't a big deal because I can always just tighten up a wig—and having a wig cap that's a little loose is not the end of the world. But, when I have a lace front wig, if the lace doesn't lie flat on my forehead, then it kind of defeats the purpose of looking realistic. So, for me, I have had to sometimes search to find lace front wigs that are sized smaller, so that they'll actually lie on my forehead the way they're supposed to.

It's common for cosplayers to know which brands have larger wig caps and which brands have smaller. I think that Arda tends to have slightly larger wig caps than average, and so, if I were recommending a wig to someone who had a big head, I'd probably say, "Oh, you should check out Arda wigs." And if you're buying wigs online that are produced overseas, like in Asia, they tend to be a little smaller, I found. Stuff like that, you learn over time.
Top 10 Best Wigs for Cosplay to Buy Online
We've talked about material, about feel, and about color. Now, let's effect your transformation. Here's our picks for the 10 great wigs for cosplay available online.
8. RightOn Women Girls Short Curly Synthetic Wig with Air Bangs
$16.99
How to Properly Maintain a Wig
A wig's not like real hair–once you lose a strand, it's never coming back again. So learn how to treat yours right.
Wash Your Wig by Soaking It in Water

First things first–do not brush your wig while it's wet. The fibers will stretch and get all scraggly. Instead, before washing, gently work out the tangles. In the meantime, fill your sink with lukewarm water (or cold water, which'll help maintain curls). Pour in just enough shampoo to get some suds. Gentle, drugstore stuff will work just fine–though you can always get synthetic wig shampoos. Swirl the water around; make sure the shampoo's evenly distributed.
Dunk your wig in the water. Don't knead it or scrub it like laundry–synthetic fibers are most vulnerable with wet. Gently swish it around and work your fingers over it. Let it sit for about 3-5 minutes. Then rinse it out. Do the same with conditioner. (Swirl, soak, rinse.) Make sure the conditioner really melts into the water; you'll hate yourself if any clumps get stuck in the wig.
Next, dunk the wig back in clean water. For 5 minutes, swish it about gently; run your fingers through it; wash out all the product. Then drape it over a wig head, and let it air-dry. Do not wring it!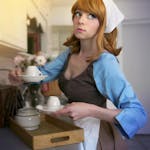 Singer, Cosplayer, Professional Nerd
Ginny Di
I don't think it's necessary to wash your wig after every con. What I usually use as my rule of thumb is if I have worn a wig enough that the styling is starting to look messed up—like the curls are starting to come out—that's when I decide that it needs to be restyled. And for me, a restyle starts with washing the wig.

I think that, in general, the more time you spend washing a wig, the more careful you're being. And the more careful you're being, the more safely your wig gets through it. I find that if you wash a wig quickly—if it doesn't take you an hour and a half—then you have usually done a little damage to your wig. If you really dedicate your time to cleaning up a wig, then you're breaking fewer fibers and you're ending up with a better final product.
Brush from the Bottom Up and Stick into a Ziplock Bag

When it's really, truly dry, you can brush it. Gently work your way up from the bottom, and hold the top so you don't pluck the wig bald. And make sure you don't use a fine-toothed comb.
After you've worked out the tangles, put the wig away. Wigs are weak to dust and sunlight. If the wig's styled, then you kind of have to keep it on a stand. But stick everything else in a ziplock bag. If the hair's long, loosely braid it so it doesn't tangle.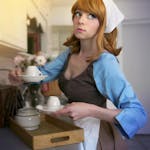 Singer, Cosplayer, Professional Nerd
Ginny Di
I have three wig heads, and normally, there is only one or two in use at any given time. I store most of my wigs in a hair net and then in a plastic bag. Generally, I put a wig on a wig head when I'm first styling it, and I will leave it on the wig head until I have worn it for its initial purpose. Like, if I'm styling it for a photoshoot, I'll leave it on the wig head until the photoshoot. And then afterwards, I'll store it in the bag.

My way of thinking is, I don't know when the next time that I'll wear the costume is, and if it needs to be touched up a little for the next time, then I'll figure that out. I mean, I probably own like 50 or 60 wigs, which is just way too many to keep on the wig heads at all times.
The Romanian philosopher Emil Cioran once said, "What do you do from morning to night? I endure myself." We're stuck in our own skins from sun up to sun down, from spring to winter–so, when we throw on a wig and step into someone else's shoes, it's like a breath of fresh air.
To make the masquerade convincing, though, there's a few things to keep in mind. Get a lace front if you're going to pull back your hair, wefted if you need volume. And, finally, make sure that when you stick your wig on your head, you feel drop-dead gorgeous.