Top 10 Best Notebooks to Buy Online 2020
Beethoven composed music and listened to conversations through notebooks during the last, deaf years of his life. Darwin started a scientific revolution through his field notes, diaries, and notebooks. Da Vinci recorded pretty much everything in his. And Hemingway, journalist and writer, famously said, "I belong to this notebook and this pencil."

Notebooks have been used by pretty much anyone and for pretty much everything for a long time–and you can bet they've evolved since the Renaissance. There's now spiral and bound notebooks, coated and waterproofed paper, lined, dotted, or blank pages–and each innovation is suited for a certain kind of person. So, this time around, let's talk about how to find a journal that fits you.
Last updated: 10-24-2019
829 views
How to Choose a Notebook – Buying Guide
There are many, many ways to stick together a few leaves of paper. We could barely keep track of them all ourselves, so we invited the Stationery Nerd to walk us through everything.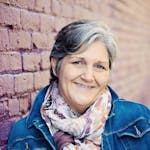 The Stationery Nerd
Pam Tremble
When she was a little girl and it was back-to-school time, Pam was always most excited about the prospect of new pens, new notebooks, and new crayons. That love for stationery never died out. Rather, by now, she's amassed more supplies than we could ever hope to count.

She runs the Stationery Nerd blog, where she posts musings and reviews (including one on 30 different journals). You can also connect with her on Instagram, Pinterest, Facebook, and YouTube.
Binding: When Do You Want Spirals and When Don't You?
So, there's two main ways leaves of paper are held together–on spiral rings or sewn and glued together. Each comes with advantages and disadvantages that seem small at first, but magnify over time.
Spiral-Bound Notebooks are Great for Jotting Down Notes outside the Home

Ring- or spiral- notebooks work well in small spaces. If you're using a small desk, sitting on the bus, or standing by the curb, just fold over the page and flip the book over to write more. But if you stack enough spiral-bound notebooks together, the rings get caught on one another.
There's also steno (or stenography) pads, which are small notebooks with the spiral binding along the top. Secretaries and journalists used to dictate in them, using shorthand. They were built for speed; actually, there's a line running down the center of most steno pads, because it takes time to move your hand from the left-hand side of the page all the way to the right and back again. If you stop at the center line, you halve the distance your hand has to travel.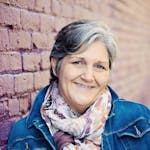 The Stationery Nerd
Pam Tremble
I think spiral-bound's more often associated with children going to school. But I also think that there's a pretty big market, especially because a lot of day-planners and calendars are spiral-bound. Adults are using them too. Most often, you find spiral-bound notebooks with lines, so they're really good for journaling, or taking notes during class, or that type of thing.

As for steno pads, secretaries use them a lot when they're taking phone calls and need to write down messages. They're also often used by reporters because they can just slip the pad in their pocket, and it's easy to write on with no desk. But I don't see them very often in school settings; I almost always see it in association with a corporate setting or office setting.
Sewn Notebooks are Sleek, Ideal for Lining up along a Shelf, and Durable

Then, there are all the other bindings. Pages can be stapled together, glued together, or sewn together and then glued. Staple-bound notebooks are thin, light, and cheap. However, sewn notebooks are the most durable. Spiral-bound notebooks, after all, have got large perforations for the wire to loop through, and the little strips of paper left around the ring wear out over time. You don't have that problem with threads running down the spine.
Also, staple-bound and sewn notebooks have sleek spines. If you need to carry multiple notebooks around, or you want to line your journals along a shelf, you'll find that these can rub shoulders and not tangle the way spiral-bound does.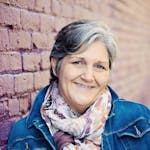 The Stationery Nerd
Pam Tremble
Most journals are actually sewn and then glued together. It helps with making sure that they lie flat on your desk when you have them open—and they'll actually last longer.

If you have just a glue binding, it's easier for the pages to fall out as you open and close the notebook more often. And the notebooks don't lie flat when you open them on the desk. Quite often, the glue binding's usually the cheap notebooks that you get in the dollar bin—and you don't expect them to last long.
Paper: How Do You Check for Quality and Weight?
The thing about shopping online is you can't feel the paper or rub it between your fingers–and that's the best way to check for quality. The next best way is to learn some paper terminology.
So You Don't See Through to the Other Side of the Page, Get Thick Paper with High GSM

First things first–gsm stands for "grams per square meter." The higher the gsm, the denser your paper. The scale starts at around 35 gsm, which is flimsy newspaper-like stuff. Eighty gsm is average printer paper. We'd say 100 gsm is the threshold for good notebook paper (you get less ghosting, which is when you can see through the paper), while 140 gsm will give you the heft of a cheap band poster. Anything above 200 is entering card stock territory; 400 gsm is an indestructible business card.
You may also get paperweight flat-out in pounds. Your average printer paper is 20 lb. If you don't want to see through the page, you should get something around 30 lb. But here's a friendly tip: paperweight measurements aren't strictly standardized, and two reams of paper that weigh the same can be wildly different in quality. If the gsm is available, know that it's a more reliable reference.
Finally, there's also point size. This is an actual measure of thickness–one point corresponds to 1/1000 of an inch. It's most commonly used to talk about card stock. That's why scale usually starts at 8 pt, which is about 175 gsm. Just so you know, 5 and a half pt is roughly equivalent to 100 gsm.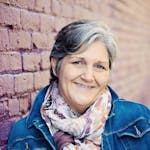 The Stationery Nerd
Pam Tremble
GSM is not necessarily the thickness of the paper, but it's a pretty good indicator of the thickness. You can have an uncoated paper that has a higher gsm, yet the grams are lower because the coating is not adding weight to the paper. Whereas a coated paper that's 90 gsm—like a Rhodia notepad—might be a heavier paper than something that is 100 gsm that's uncoated.

Notebooks that contain high gsm paper are not heavy because you're sacrificing pages. You give up pages to get the same size notebook that weighs about the same. To me, it's worth the sacrifice to get better paper.
So Inky Pens Don't Bleed or Feather, Get Coated Paper

So, then, what is coating? It's a kind of varnish that's put on the paper and can be used to add shine, smooth over a fibrous surface, or keep ink from soaking through paper. That's why you want something that's coated if you've got a wet pen; it'll prevent any bleed-through or feathering.
Basically, the more heavily coated a paper is, the less ink it will absorb. (And graphite doesn't take well to coating, so you don't want coated paper if you use pencil.) Your writing will also take longer to dry. That's why you want heavily coated paper only if you use fountain pens; if you have a regular ink pen, get lightly coated or half-coated paper, as it's a lot easier to work with.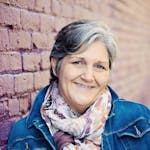 The Stationery Nerd
Pam Tremble
Feathering is when your paper doesn't have a coating at all. The ink will absorb into the paper, and the fibers will grab the ink, and it spreads out into a spiderweb-type thing. So you're not going to have feathering at all on something that's coated.

So Tomoe River paper can be like 52 gsm, but it's got a coating—so nothing bleeds through, and nothing will feather on that paper, which is why people with fountain pens love that paper so much. But it's very thin, so you basically only get to use one side of the paper; you can't really write on the back side because you can see everything through it.
Paper Sizing: A5 is Standard; the Smaller A6 is More Portable

Think about how and where you'll be using your notebook. Then think–do you want a huge thing to sketch on at home, or an itty-bitty one to fit in your purse?
Most writing, however, won't need anything bigger than letter-sized paper (8.5 x 11.0 in) or its ISO (International Organization for Standardization) equivalent, A4 (8.3 x 11.7 in). But those notebooks aren't exactly portable. The next size down, A5 (5.8 in x 8.3 in), can barely fit into a tote bag or a purse.
If you need to carry your notes around, you can get pocket notebooks. "Pocket" is not a standardized size, but most notebooks have the dimensions of a largish wallet. B-sizes, which fit in between the A-sizes, are also an option–they're just a bit bigger (B4 is 9.8 in x 13.9 in).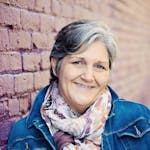 The Stationery Nerd
Pam Tremble
In the journaling community, people have adapted to the international sizing. So A4, A5, A6 are among the most common. And the B sizes are also gaining popularity—namely, B5 and B6.

The most common size is A5. However, I have seen a trend in the last six months or so going to A6. In fact, I'm using an A6 size right now, because I just moved into a traveler's notebook. When I looked into it, I was like, "Oh, did everybody follow me, or did I follow everybody else?" So I think that that's the trend—to go a little bit smaller—but I'm not sure how long that trend is going to last. But it's interesting to see that's the size people are gravitating to right now.
Ruling and Spacing: Do You Want Traditional Lines or Creative Grids?

Notebook paper can be lined, dotted, or even a blank slate. Then, you've got line spacing; in America, the most common forms are narrow or college ruled. Narrow ruled (6.4mm) is for people with tiny handwriting, or who need to fit a novel on a page. Medium, or college ruled (7.1 mm), is your run-of-the-mill, all-purpose paper. For kids, there's wide, or legal, ruled (8.7 mm).
Then, there are books with dotted grids. Recently, bullet journals—where you write in short, quick notes and symbols—have swept over the Internet. Dotted grids notebooks, because you can connect the dots and use the page however you want, lend themselves beautifully to these. You can also draw pictures, diagrams, and graphs.
Finally, there are notebooks with no lines at all. For doodlers and artists.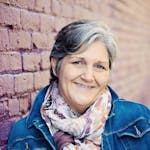 The Stationery Nerd
Pam Tremble
Bullet journaling is a huge trend right now, and I see most people wanting to use dot grid. However, I'm also seeing a trend toward the square grids; it's more closed in and easier to draw straight lines that way. And there are some people who use blank pages—which I don't understand, because I can't write in a straight line to save my life.

And then there are some people who use lined paper. In fact, my last journal was a lined notebook that I used for bullet journaling.
Top 10 Best Notebooks to Buy Online
Well, we have to give you somewhere to start, right? Now's when we and the Stationery Nerd weigh in with some of our favorite notebooks.
When it comes down to it, there's no "best" notebook; everything's a mixture of personal needs and personal preferences. You may need perforation; you may not. You may use fountain pens and want coating; you may use pencils and not want it. But the point is, if you look hard enough, you'll find something that answers to you.
We've organized notebook features into neat little categories for you; we've shown you some of our and the Stationery Nerd's favorites. All that's left is for you to find your favorite. Happy journaling!