Top 10 Best Cat Litters to Buy Online 2020
It takes two to choose cat litter: the human and the cat. You have a rough idea of what you want. Great. But do you know what your cat wants? Do you even know how to begin to ask? To him, which litter smells the least offensive? Which is the safest? Which is the most comfortable against her little paws?

Here, we've compiled some questions (and answers) to go through with your cat the next time the litter box runs empty. We've also categorized common types of cat litter and summarized their characteristics. And we wrote up a list of litter we'd recommend. So all you need to do is consider the unique situation and tastes of you and your cat.
Last updated: 10-24-2019
282 views
How to Choose Cat Litter – Buying Guide
When you're picking out something that's so subjective–that depends so much on personal taste–experience is the greatest teacher. So, this time around, we asked Jenny, who has shared her home with cats almost her whole life, about how she looks for cat litter.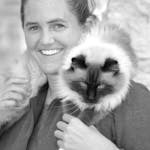 Floppycats Blogger
Jenny Dean
Jenny Dean is the blogger behind Floppycats.com, a website that unites Ragdoll cat lovers worldwide. She has two 9-year old Ragdoll cats, Charlie and Trigg, that she adores. Jenny has been blogging and reviewing products for over 10 years, including many different kinds of litter—including clay, corn, walnut, paper, and more.

She also covers topics such as cat care, cat behavior, and cat rescue. You can connect with the Ragdoll community on Instagram and spend hours browsing adorable cat photos.
Cats Have Sensitive Noses: Get Odor-Absorbing, Unscented Litter

Give unscented litter a try. We know that cat litter that smells like lavender fields sounds like a great idea–but hear us out. First off, scented litter has too strong of a smell for most cats. And if your cat doesn't like her litter box, she's not going to pee in it.
Second, most perfume is synthesized from chemicals, and these chemicals get on your cat's coat as he's doing his business. And the next time he licks himself clean, they enter his system. We don't know just how harmful these chemicals are for your cat, but it's not something you want to take chances with.
A good unscented litter is more than enough to control smell. If it has antimicrobial agents, all the better–since now you're rooting out and eliminating the cause of the odor.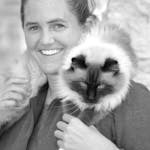 Floppycats Blogger
Jenny Dean
The perfect litter and the perfect litter box is determined by the owner and the cat. That's it. There's nobody else that can determine that for that household. So it's really important that the owner knows what they want and that they understand what the cat likes.

Usually scented litters fail because a cat stops using the litter box because it smells so potent and offensive to the cat. A cat's nose smells 14 times stronger than a human's, and most scented litters are chemically produced, meaning that they use chemicals and perfumes that make a cat not want to use the litter box. I mean, think about a cat, fending on its own outside, is going to find a dirt pile to do its business in. They aren't looking for something that smells like an artificial air freshener to do their business in.

Also, the reason why cat urine or cat poop smells is because of what the cat is eating. If it's a dry food only diet, if it's a wet food diet, if it's a raw food diet—the smells of the poop and pee are going to differ based on those things. Also the cat's age and if they have any ailments is going to alter the smell of the urine. So that's something to consider when selecting litter.
Get Clumping Litter so You Can Clean Easily and Frequently

You want litter that clumps. If the sand does not clump where a cat pees or poops, you won't be able to get rid of it right away. The waste will slowly sink to the bottom, and now you have to dump out the litter box, rinse it, and start again.
And the longer you wait to clear out the litter box, the more time you give the bacteria and other undesirables to fester and grow. Clumping litter is easy, and it's hygienic.
The only thing is, clumping litter will harden on any wet surface. That means if you keep the litter box in a bathroom with a shower–anywhere with a wet surface–when your cat kicks litter out of the box, it'll stick to your floors and you'll have to scrape it off.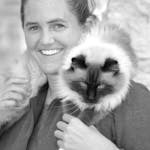 Floppycats Blogger
Jenny Dean
I like clumping litter the best because you can remove the clumps from the litterbox, which then eliminates the smell in and around the litterbox. Just scoop it on a regular basis and put it into something like a Litter Genie—that works best for our household.

Specifically, I prefer clumping clay litter. That's what I like, and every cat I've had has used it and we've never had a problem. So that's at least five cats that I know of.
What Is Your Litter Made of?
There are four main types of cat litter: clay, paper, natural, and silica gel. Here are the characteristics of each.
Clay: Dusty, but at Least It Clumps Easily

Clay litter is the most common on the market. That's why it's also the cheapest. It absorbs odor well–that is, until it becomes saturated with urine. That's why it's so important to get clumping litter so you can remove waste and lay down new litter regularly.
The catch? It's dusty. If your cat has lung problems, it may aggravate them. And when she scrabbles around the litter box, she will kick dirt everywhere.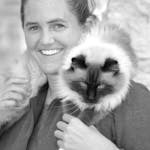 Floppycats Blogger
Jenny Dean
If you watch a cat go to the bathroom outside, they usually will pick a dry dirt spot to do their business. And the closest thing to dry dirt to me is fine clay clumping litter. I want to mimic where they would go outside the most I can in my house since I have indoor cats, and that's why I like clay.

The better the brand, usually, the less dust is in the clay-based litter. And I think finer granules do better as well. If you have a cat that's eating the granules, though, you don't want to go with that. You should be buying them paper litter or maybe wheat litter or something that their digestive tract can take.
Paper: Perhaps the Gentlest Litter–and It's Biodegradable

Paper is natural and biodegradable. It's highly absorbent, so it soaks up urine before it contaminates the rest of the litter box. It's gentle, and you know there won't be a problem even if your cat eats a little.
It's also light, which seems like such a minor thing–but it will keep you from straining your back when you lug the bag to, from, and around the house.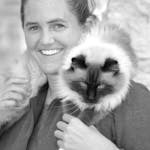 Floppycats Blogger
Jenny Dean
My cat Rags had a cut from his chest to almost his belly button. It was an abdominal incision. All of that was sutured together, and he had staples there to keep it together. And so when he went to the bathroom, that was exposed and closest to the litter. So that's when we used paper litter.

I like paper litter for those kind of uses because it's obviously safe. It's non-toxic, and hopefully, it doesn't have any artificial scent sprayed on it.
Plant: Generally Safe, but Has Widely Differing Varieties

This encompasses a few different kinds of litter. Wood, plants, wheat, even corn–basically, anything that sprouts out of the ground and is not produced in a lab.
Some plant-based litter clump well, some not so much. Some plant-based litter eliminates smell, some don't. It all depends on what brand you're using and what went into making the litter. But, in general, wood and corn are absorbent and good at stifling odor.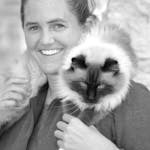 Floppycats Blogger
Jenny Dean
There's many readers on Floppycats that like ökocat, or they like World's Best Cat Litter. ökocat I think is made from wood, but it's clumping. And then World's Best Cat Litter is made from corn. I don't like the smell of corn in my house or when my cats pee in it, so I prefer clay clumping. But—and I can't emphasize this enough—cat litter and cat litter boxes are very subjective for the cat owner and the cat. What works in our house might not be the best combo for your house.

We've also tried walnut litter. Walnut litter, I didn't like because it left a brown dust all over my cats. And I wasn't sure if licking that off over time would be okay for them. The less dusty the litter, the better, because the cats are going to lick off that dust—they lick off everything on their bodies.
Silica: Dust-Free, but It Absorbs and Retains Urine for a Long Time

You know those little packages of desiccant that sometimes come with food? Silica litter is made out of something similar. It's this porous material, and it can absorb a huge amount of urine. So technically, you don't have to clean the litter box as often–but do you really want to leave cat pee sitting around for a month?
Silica is dust free (it's a gel)–so it's tempting if your cat has asthma or allergies. But it's potentially harmful if digested in large amounts. It's for you to decide if the pros outweigh the cons.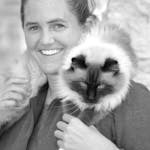 Floppycats Blogger
Jenny Dean
I dislike silica litter. It retains the smell; I don't think it helps with odor control at all. When a cat leaves the litterbox, it tracks the litter outside of the litterbox. Those little crystal balls of silica litter hurt to step on as a human. And I've had readers write in and tell me their cats won't use silica litter because it hurts their little feet to walk on it.
Look for Promotions and Sales to Save Money–But Don't Skimp on Quality

From here on out, you're going to be constantly laying down new litter, constantly dumping out old litter, and constantly restocking litter. So it makes sense to be worried about cost. You want a litter you can afford and continue to afford into the future.
However, make sure that you only get brands you trust and your cat likes. If you're on a shoestring budget, rather than gambling on something cheap and of doubtful quality, search for deals. There are plenty of promotions and sales–all you have to do is look.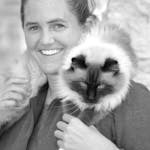 Floppycats Blogger
Jenny Dean
There are two things that I said to myself when I started reviewing cat products. Two things that I never wanted to mess with were my litter box and my cat's food. Those are two things that I don't think that you skimp on, that you spend money on. You don't want your cat peeing or pooping outside the litter box, so it's a no brainer that you wouldn't skimp on that. You want the perfect situation for the cat and for you.

If you are a smart shopper, you can get the brand that you want at a lower cost. Just watch the price of litter. I use Dr. Elsey's Precious Cat Litter. It's regularly $17 for a 40 lb. bag, but sometimes it will go on sale for $10.49. Or you can find it online for cheap as well. There's also lots of coupons online you can print off and bring in store to help you save.
Top 10 Best Cat Litters to Buy Online
Bottom line: there's no telling how much you'll love a brand of litter until you've used it. But we have to give you somewhere to start. Here's some litter that has been pre-approved by many cats and humans alike.
5. sWheat Scoop Multi-Cat All-Natural Clumping Cat Litter (36 lb.)
$39.21
4. Weruva It's A Tea Potty! Hinoki Wood & Green Tea Natural Cat Litter (11.7 lb.)
$24.36
2. Dr. Elsey's Precious Cat Ultra Premium Clumping Cat Litter (18 lb.)
$8.99
1. World's Best Cat Litter Multiple Cat Clumping Formula (28 lb.)
$25.99
We're going to say this again. Cat litter is chosen by both the human and the cat. And the "best" cat litter is going to be the one that you two like the most and keeps your shared home clean and your cat healthy.
And here's another quick tip. When you switch to a new litter, be sure to introduce it slowly, mixing in the new litter in increments. Otherwise, your cat may protest by peeing on the rug–even if you were introducing a perfectly good cat litter.