Top 10 Best Women's Tote Bags to Buy Online 2020
We aren't going to play cute, and we aren't going to beat around the bush. Luxury totes are worth it. We talked to Ana–a lovely working professional with an eye for fashion (more about her below!)–about this, and it's not a matter of snobbery. Well-crafted totes last longer. They work their handbag magic and make you look better. You love them and use them forever. You could even call them sustainable.

And we're not telling you to go out of your budget (please don't go into debt for the sake of Louis Vuitton), but, as Ana said, "pick the best one you can afford." But since you will be making such a big investment, you need to make sure the bag is as functional as it is fashionable, right? So let's talk about how to pick out a tote that's right for you.
Last updated: 12-12-2019
4,314 views
How to Choose Women's Tote Bags—Buying Guide
The world of tote bags is deep and vast, and–especially when it comes to fashion–it never hurts to have a second opinion, right? So we turned to Ana, who knows what it is to look and feel good among the daily rush of modern life.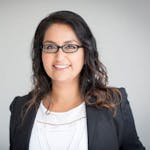 When Ana was growing up, she was told that girls can either be stylish or have a career—one or the other, take your pick. But after she grew up and got out on her own, she realized there's really no reason she can't have both. She's a chemical engineer, project management professional, and an MBA, working towards her dream of running her own company.

And yet, she manages to be incredibly stylish and classy. And that's what her channel is about—how to have the best life and career, to be organized, to take control of your finances, but do all of that in style. She's super fun, yet straight-forward. Visit her below!
Simple and Clean Designs Will Serve You, Whether You're at or off Work

We know–with fashion, the old maxim "Don't judge a book by its cover" doesn't really hold true, and you just go for whatever design you like. Which is fine most of the time. However, if you are planning on bringing that tote to the office, take just a moment to consider whether it matches your work environment.
Leather totes–simple to no patterns, toned-down colors–are pretty much guaranteed to look good in any professional setting, whether you're at a suit-and-tie affair or a business-casual lunch meeting. You want something sleek, with a clean silhouette. On the other hand, fabric bags can look out of place if you're somewhere fancy.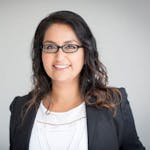 [For work], I think a solid color is a good place to start. Traditionally black, but I find that a rich burgundy or a forest green are both neutral enough that you could wear them with any sort of suit.

There aren't that many structured totes out there that are comfortable to carry. If you're taking the train, if you're going to run around office to office, if you have a lot of meetings, you want to have something that's comfortable to carry on your shoulder. So I wouldn't worry too much about the structure; I would worry more about color and texture.

If you get a nice leather, it will last you a really long time. And it becomes a part of your signature look. When I first started out working, I had this beautiful Whipping Post Tote Bag. And I kind of grew out of it; it started to look older and it fell apart. Then I invested in my first luxury handbag. It's been six years since I got it; I still have it, and it still looks amazing.
Get a Tote that Just about Fits What You Mean to Put in It (Meaning Letter-Sized Paper for Work)

Be practical. Think about when you plan to use the tote and what you need to carry. Are you going to use it for overnight trips? Then it better fit your skin care, your PJs, maybe a few towels, and a teddy bear. Are you going to take it to a quick lunch with friends? Then all it needs to do is carry your wallet, phone, keys, and hand cream or something.
If you are looking for a work tote, make sure it can fit in letter-sized paper without dog-earring the corners. Who knows when your boss is going to hand you some important documents? It may also need to fit in your laptop, a power bank, and–as Ana pointed out–some energy bars and a treat or two. (And, if you're out of the office a lot, something to keep you hydrated.)
However, we wouldn't go much bigger than a foot on any side. Do not get overly excited and buy a tote so big it could double as Mary Poppin's carpet bag.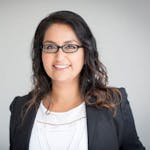 If you're petite, a really large bag is awkward. It becomes heavy because if you have more room, you're going to put in more things. Pick a size that's convenient for your body. Usually, I go for anything that's medium, like the Louis Vuitton Neverfull MM.

Anything that can fit a 13-inch laptop is probably the largest you should go with. If it's big enough to fit a 15- or 17-inch, you've gone too big. In that case, you should carry a backpack.
Each Material Has Its Own Strengths and Weaknesses
Materials are important. (But we think you knew that.) Materials determine the entire look of a bag, how it'll age, whether or not it'll stand up to the rain.
The Life-Long Companion: Leather Looks Good Pretty Much Anywhere

Leather ages gracefully. In Ana's words, "the more you use them, the shinier and richer they get." You can dress up an outfit–a sleek, structured black tote is classic with a suit, just as it is with a rumpled white shirt and jeans–or you can dress down an outfit–pair a grungey leather bag with a pair of boots.
So, if you are looking for a forever-bag, leather is your best bet. And it's easy enough to care for, as Ana will explain below. Leather's biggest downfall, however, is its weight. You do not want to carry around thick books and a laptop in a leather tote.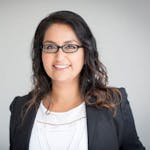 I'm very OCD about caring for my things. Here, the weather gets cold and there's snow. When there's precipitation and I'm going out, I just make sure I have some protector on my shoes and bags as a general rule.

It's really inexpensive—so you don't even have to buy expensive leather cleaners or leather protectors. I just buy a $7 product from my local shoe store that I spray on and then wipe down. I do it once a month at the most, and it's never been a problem for me. I do not have a single piece of leather that's deteriorated because I didn't care well enough for it.
The Goods-Protector: Nylon Holds up to Time and Rain

If you're an outdoorsy person, you're most likely familiar with nylon. Nylon totes are light, which means you can fill it up with heavy equipment. They're durable, which means they won't rip with age or the weight of that heavy equipment. And they're water-resistant, which means they won't let the rain ruin your heavy equipment.
Most nylon bags are used as grocery bags–you know, the kind eco-conscious moms and dads shop with. But if you choose one with a bit more structure and detailing, you could just as easily carry it to the office.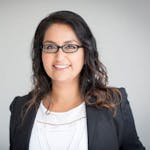 I've seen a lot of women carrying black or brown or grey Longchamp nylon bags to work. They're sturdy, lightweight, and water-resistant, so they're a good alternative to leather bags on a rainy day. Or if one day you're going shopping and you have one of those folded in your bag, you can pull it out and fill it up, and it still looks really elegant.

The reason they look so nice is because the handles, being leather, add some structure to the bag. And they come with a zipper as well. Naturally, they look just like a tote and then because of the color, because of the little detail of the leather additions and the zipper, they look elegant and not like a grocery bag.
The Flexible One: Fabric can Be Folded up and Stored in Your Main Bag

Fabric looks soft and breezy in summer. Many fabric totes are weekend-casual–but, again, if you get one with structure and thoughtful accents, it won't look out of place at the office.
We couldn't possibly name all the different fabrics out there–but linen, hemp, and cotton are popular varieties. Linen and cotton are thinner and lighter; they fold readily and make good backup bags. Canvas is sturdy and possibly the best choice if you need to carry anything heavy–your laptop, a few textbooks, and a dictionary.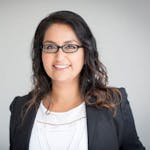 In the summer, when I'm wearing lighter clothes—if I wear white and I have some beige sandals—then I love carrying fabric bags because they have this summery feel. If I'm going to my parents' house or if I'm going to the movies and I need to bring some extra jackets, that's when I use this [fabric] bag a lot. I just find it so versatile.

And then the other [fabric bag] that I have is my weekend travel bag. It's canvas, and it's got a really long handle. It's great if I'm going for an overnight trip somewhere on the weekend. It's so light that I can wear it cross-body and take it on the plane. Those are where I use fabric bags the most. I don't typically bring fabric bags to work unless I have a lot of books to carry.
Features You Might Not be Able to Live Without: Handles, Zippers, and Pockets

If you take the train to work and you're standing with other commuters, body-to-body, do yourself a favor and get a tote with a zipper. Forget pickpockets–the jostling might just knock something out of your bag. Fastenings–zippers and buttons–also act as extra insurance when you're carrying a pile of documents that need to stay in order.
See if the handles are long enough for the tote to hang comfortably from your shoulder. If it includes a shoulder strap, even better. Inner pockets help you organize your stuff; they won't just ensure you can find things quickly, but they also might help you fit more in by properly divvying up the space. Ana talks about more helpful features below.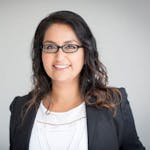 On the exterior, it's nice if there's a pocket that you can slide a transit pass in for easy access. I also like bags that you can cinch on the sides so you can make them smaller or larger.

And then on the inside, I always appreciate a zipper pocket, especially because tote bags typically don't have a zipper. But even if it's open, if it has a nice large zipper pocket on the inside, you can keep your wallet safe when you're walking around with it.
Top 10 Best Women's Tote Bags to Buy Online
It's time for some retail therapy. Here are ten totes for every occasion–whether you're at a business meeting, visiting your in-laws' house for Thanksgiving, or grocery shopping in the rain.
Looking to Round out Your Wardrobe? Let Us Help

We want you to love everything you wear, from the bag perching on top of your shoulder to the socks covering the ends of your toes. Here are some of our other pieces that'll help you put together the rest of your look.
We've run the entire gamut of bags–from high-end to affordable pieces that simply work. These are our favorites, and if you see something that works for you, great. We congratulate ourselves on a job well done. But if you don't, don't stress and keep looking.
Because, as Ana told us, "if you had to pick one bag–if you only ever wanted to have one bag–then pick the one that calls out to you the most." We all have different lifestyles, different budgets. So get one that fits you, the best that you can afford, so that you can have it for a really long time.